Order Business Cards
Why?
When your networking is in full swing, you often will want to leave your name and contact information with someone, and the appropriate method is to give them your business card.  More importantly, when you give people your card, they generally will give you theirs in return.  Now you have their contact data, and you can email them your resume, call them, invite them to be a LinkedIn connection, etc.
In addition, you will carry your business card to all interviews, and exchange cards with everyone with whom you interview.  After the interview, you will send each person a thank-you email, using the email address on their cards.  Later, you may need to call them, and you now have their phone numbers.
How?
You have three choices, but I recommend www.vistaprint.com, where you can order online 250 free business cards – free, except for the $6 postage and handling, but still that's a bargain. 
Important note: VistaPrint has recently raised their prices -- HOWEVER, if you follow the link below (Customize....), it will take you through the previous, cheaper process. EVEN BETTER: instead of paying $6 for shipping, it's only $4.99! Thus, ajobs.com just saved you $1.01.

Procedure:  Click on this link Customize Your Personal Business Card to see sample templates.  Note that all of these Designs are very unprofessional, except for the plain white one, #2.  Select it.  (Or go to www.vistaprint.com.  On the menu bar at the top, hover over Business Cards, then select Free Business Cards to see their Designs and templates.)  Now follow these instructions.
On the left side of your screen, type in your information:
Company Name = your name
Company Message = give yourself a title (e.g., Accounting and Finance Professional, Executive Assistant, IT Professional, etc.)
Full Name = since you have already put your name at the top, use this space for your edited LinkedIn Public Profile URL. (Important: If you have not already customized your LinkedIn URL, you MUST before including this link on your cards. Here's how.)
Email/Other = Type in your email address, then press the Enter key to add another line.  Type in your cell phone number on this line.
Use Address Lines 1 & 2, Phone/Other, and Fax/Other to show core competencies, functional areas, software skills, or anything else you want people to know about you.  The finished result should look something like this: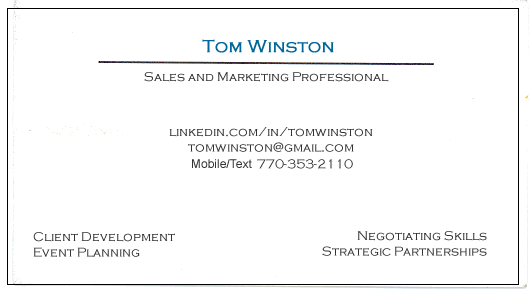 Now go back and proofread carefully, since Vistaprint does not have spell check.  When you are satisfied, scroll down and complete the "Online Proof Approval," then click "Next" to proceed to the checkout and pay with your credit card.  Along the way, Vistaprint will try to sell you everything from refrigerator magnets, brochures, shiny finish, etc – just click "no" to all of them and you will finally reach the check out.  You will receive them in approximately four business days, so don't pay extra for overnight delivery either.
NEW:  You now can order VistaPrint cards through Staples office supply online, and then pick them up in a little as two hours at the closest Staples store to you.  Just click this Staples link and follow the instructions above to complete the card information and to find a store nearby. Again, check your spelling!  Although Staples is slightly more expensive, you can order 500 for just $9.99, still a real bargain!

Your second choice is to use www.Avery.com.  The primary advantages are (1) you can print them on your home computer/printer, (2) you can customize them for special needs, and (3) they will look less generic than Vistaprint.  The chief disadvantage is that you must be constantly reprinting them and you frequently will find yourself without a card when you need one, and thus I recommend Vistaprint, at least as a backup when you are in a hurry.  Another disadvantage is that using Avery is a longer and more complicated procedure, especially if you are computer-challenged.  Plus, you must first go to an office supply store and buy the card stock, product #8371.

Procedure:  Click this link Business Cards, Print Front Only, Tall or Wide and select a card template.  (Or go to www.avery.com, then  products, then cards, then business cards. Scroll down and select Product 8371.  On the short menu on the left side of the page, select "Design and Print Online," then Business Cards, Print Front Only, Tall or Wide.  In the Filter by Theme box, select "Blank and Text Only," then choose any of these 10 simple designs.)  Now you have another choice "Edit on Design Screen" or "Easy Edit Wizard."  If you are not very computer literate, you might choose the easy route, but I recommend the other because it allows you to add the latest in High Tech, a QR Code, which with an app on a smart phone, can be set to link to your LinkedIn Public Profile.  Thus if anyone wants to know more about you, he/she can use the QR Code to view your LinkedIn information.  Lastly, add the same personal information that I described in the Vistaprint instructions.  Then click "Preview and Print" to print on your printer..
The third alternative is to use Photoshop or Fireworks and design your own, personalized card.  Then take it to a quick-print shop and have them printed, at a cost of around $40 for 500 cards.

Now go back and read the simplicity of Vistaprint.com!
Copyright, ajobs.com, 2012. All rights reserved,
including reproduction without expressed authority.